Today, DALI is the industry's open standard for meeting the needs of today's LED lighting technology, utilizing a two-way communication system that brings digital capabilities to lighting. DALI allows interconnected drivers, ballasts, switches, sensors, and controllers (regardless of manufacturer) to "talk" to the user, who then responds using a DALI controller, a computer with appropriate software, or a building automation system.

An easy way to enhance the benefits of energy-efficient lighting
Congratulations, most of the lighting in your project is LED and the benefits are worth the investment. The lighting is very energy efficient, using only a fraction of the energy of other lamp types.
LEDs also have a long lifespan - for most models, this is a very long time, between 50,000 and 70,000 hours. In some cases, the time is even longer. This lifespan is several orders of magnitude longer than other outdated technologies such as HPS and halogen lamps. This lifecycle, combined with the durability of LEDs, will result in virtually zero maintenance costs.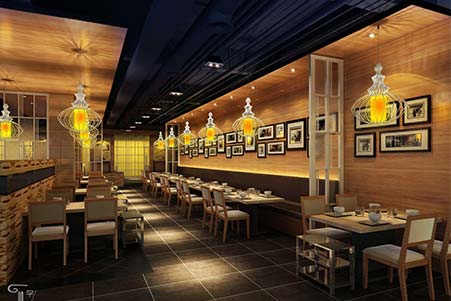 Restaurant Lighting
But to get the most from your investment, you should consider a DALI track lighting control system that maximizes energy and lifetime savings, provides you with valuable information, and makes it easier to monitor and modify your lighting requirements. Equally important is the fact that DALI track lighting helps to create an extremely comfortable environment with more precise dimming levels, a must for retail, commercial, townhouse, and hospitality applications.
For example, in a ballroom that offers many different uses throughout the day, a button may be pre-programmed to set the lighting appropriately for an early morning meeting. Another button might be pre-programmed to set the scene for an evening concert.
The best way to keep your lighting investment timeless
There are three types of LED dimming control commonly used in commercial buildings: DSI, 1-10V, and DALI. In many cases, DALI track lighting control systems cost the same to introduce and install as their two main competitors. Compared to Power over Ethernet (PoE), DALI can offer almost all the same benefits at a quarter of the price.
In addition, consider how much it can save you in labor costs.
Another hidden advantage that significantly reduces costs: the DALI web-based or app-based application will make your upfront investment future-proof, automatically updating and quickly reconfiguring equipment when requirements, functions, or regulations change.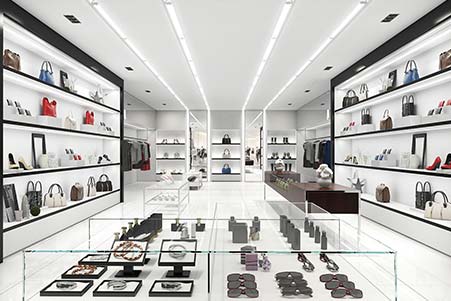 Fashion Lighting
How to get a winner's punch in a tight space?
A small retailer, a medium-sized art gallery, a private offer, a primary school classroom, and a high-rise flat - you think that none of them seem to be the right application for a flexible, advanced lighting control like DALI, the preferred control system for lighting large projects. This is true, but it benefits smaller applications thanks to its simple wiring system and easy-to-install simplicity.
Many DALI lighting control manufacturers have specifically built their solutions to provide all the DALI benefits for smaller projects. A standard approach is to use a web or app-based plug-and-play solution to identify your light groups, add how you want them to behave and automatically connect them when new features are added.
Is this lighting control right for my project?
DALI is the lighting control solution you always hear about. It's easy and straightforward to install, it offers unrivaled control over your lighting and its features can provide future-proofing for your project investment. That said, there are many things to consider. Do you need lighting throughout the day, between events, or before and after special offers? Does your building include many function rooms? Is this new construction? These are important questions. Choosing the right lighting control manufacturer can help you answer these questions correctly and ensure that your project investment is protected with the right LED lighting control solution.
If you want to get more information about the best led track light, welcome to contact us today or request a quote.