Track lighting is a well-known and beloved trend. Whether you're remodeling your kitchen or illuminating a museum sculpture, track lighting really is a statement. With so many options to choose from, here's everything you need to know about choosing the right track and fixtures for you.
Track Types
There are three types of track: H, J, and L. These terms come from the manufacturers who set the standard for each type: Halo, Juno, and Lightolier. the different types do have some similarities. For example, all three standard track types can be single- or dual-loop, and all have similar accessories to allow for custom layouts. From the outside, all three look essentially the same, but as Aladdin taught us, as with many things, it's not what's on the outside that counts, but what's on the inside.
Track types and their accessories are not interchangeable, so be sure to choose wisely. Type H track is the only track system with a dedicated grounding busbar. But don't worry, J- and L-rails are still grounded. They do this through a grounding channel in the track, which means it is built into the body of the track.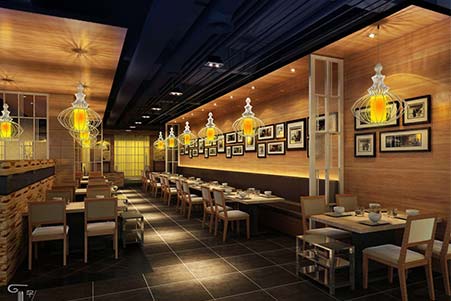 Restaurant Lighting
One thing you need to decide is whether you want a single circuit or a double circuit. A single circuit means that all the track fixtures turn on and off together, while a dual circuit allows you to turn on a certain number of fixtures at a time, giving you more control. Let's say you have a painting that you want one light to illuminate, but you don't need all eight-track heads. With a dual-circuit track, you can turn on just the fixture targeting the Mona Lisa replica, the other seven fixtures, or all eight at once. The dual-circuit configuration has one extra wire, often called a bus bar. View more information about types of track lighting, click here.
How can I tell the difference between L, H, and J fixtures?
The overall look is exactly the same. They differ in the way they each fit into the track. The adapter of a "H" fixture has three silver-colored contacts – two on one side, and one on the other. An "L" fixture has two silver contacts shaped. Like a propeller. And the "J" fixture has 2 rounded contacts and one side is marked "P". The "J" fixtures will fit our "J2" two circuit track or JUNO's two circuit track, by pulling up the contact marked "P", and inserting a "J-CLIP" to hold it in place.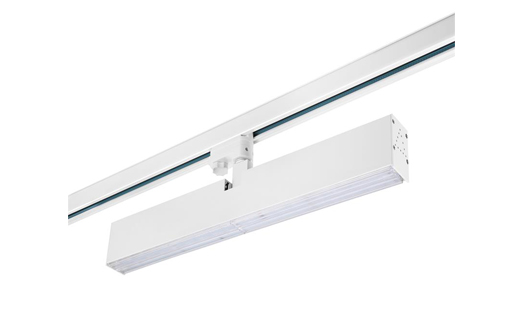 Ledil Lens Led Track Linear Light
Types of track heads
Track lights, often called track heads, come in many different shapes, styles, and sizes. Most use MR16 bulbs, but there are exceptions that use bulbs such as AR111, BR40, or PAR20. Traditionally, these bulbs have been halogen or incandescent, but LEDs are becoming more popular as efficiency and CRI increase.
Most track heads are designed for use with single or dual circuit tracks and have positive contacts that can be flipped up or down depending on which circuit you wish to use them with. The choice of which head to use depends largely on aesthetic preference. Most styles are available inline or low voltage, in a variety of finishes, and with dimming capabilities. However, there are a few unique fixture types.
The most popular magnetic track head is the cylinder. While you may be most familiar with the stepped cylinder style (which is easy to find and can be paired with almost any decor), there are a few variations of this type of head. The cylindrical series is available in flat-back, round-back, reticle, and bullet-shaped designs. The telescope track jig, while not part of the cylinder series, looks like a middle ground between the flat back and stepped cylinder head.
For more information about the different types of track lighting, welcome to contact us today or request a quote.