Have you ever wondered about the actual light source for LED downlights? The two most popular types of LED downlights are SMD (surface mount diodes) and COB (chip on board) downlights. Both produce high-quality light, have a high life expectancy, and are very efficient.
What are SMDs (surface mount diodes)?
SMDs are more efficient than COBs because the light source produces more lumens per watt, which means they produce more light at a lower wattage.
They produce a wider beam of light that extends over a larger area. This means that the heat sink requires less material, which in turn means they are cheaper. Because SMD diodes (LED chips) are machine printed on PCB boards, the manufacturing process to make them is more expensive. Most home downlights use SMD LEDs. SMD downlights are covered with frosted reflectors that hide the LED chipset and evenly diffuse the light.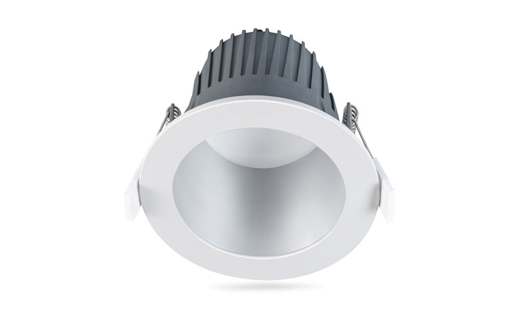 SMD LED Downlight
What is COB (CHIP A BORDO)?
In contrast to a range of LEDs such as SMDs, recessed LED on-board lights to consist of a single LED chip that is mounted on a downlight. Since the only set of LEDs is mounted on a single spot, they require greater cooling and therefore a larger heat sink (usually aluminum) must be installed to dissipate the heat. Since more material is required to manufacture the COB LED heat sink, this usually increases the cost slightly.
What are the advantages of both?
Advantages of COB Downlights
COB downlights provide a better light source. More focused light is achieved and the beam can be controlled through the use of a reflector. The chrome-plated reflector around the diode can be replaced and configured at different angles to make the beam narrower or wider.
With a narrower beam and the use of a normally clear reflector, COB lamps produce a cooler and cleaner effect because there is no frost on the lens. This can reduce the clarity of the LED light. Because of the clear lens, more light can penetrate more, which means they work well in rooms with high ceilings.
COB LED Downlight
Advantages of SMD Downlights
SMD downlights produce a wide variety of light. It floods light everywhere, which in turn means greater glare. Their wide beam angle means they are suitable for larger rooms, such as living rooms, bedrooms, kitchens, and bathrooms.
What's Better – COB OR SMD?
That all depends on your application. If you're looking for color-changeable interior and/or exterior accent lighting, you'll need to go with SMD LEDs; if you want the maximum lumens per Watt for a mono-colored light (such as a fog light, headlight or dome light) you might want to check out what's available in COB LEDs.
How can you tell the difference?
SMDs are hidden by a matte acrylic lens. The face is usually bigger. COB faces are exposed to show the only chip. In most cases, they are designed to resemble traditional dicroic halogen balloons. As an SMD LED downlights and COB LED downlights supplier, we can wholesale COB LED downlights and SMD LED downlights at competitive prices. For more information about any of our products or to receive a quote today, please contact info@pstarled.com.